This is topic 'Magneto' protein engineered to control in forum End Time Events In The News at Christian Message Boards.


To visit this topic, use this URL:
https://thechristianbbs.com/cgi-bin/ultimatebb.cgi?ubb=get_topic;f=2;t=003158

---
Posted by WildB (Member # 2917) on :

Neurophilosophy
Science
Genetically engineered 'Magneto' protein remotely controls brain and behaviour.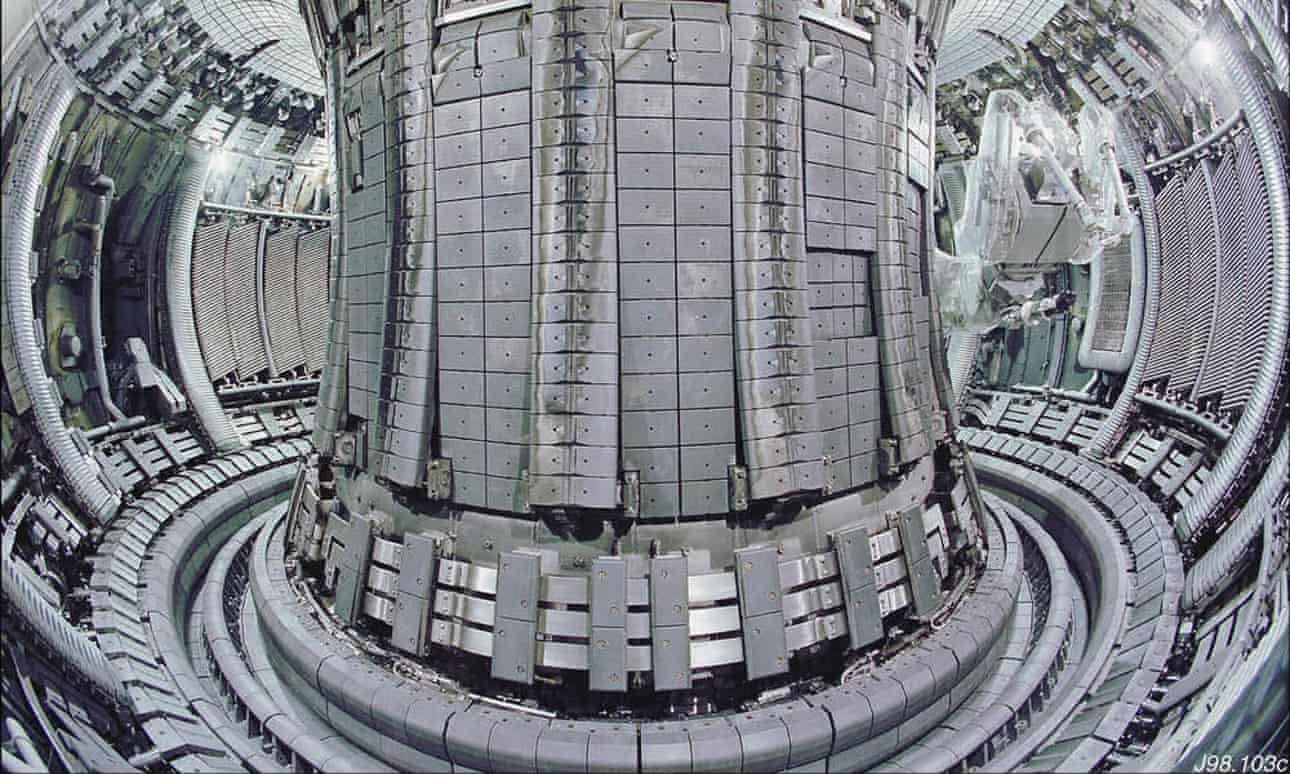 The toroidal magnetic chamber (Tokamak) of the Joint European Torus (JET) at the Culham Science Centre. Photograph: AFP/Getty Images

"Evil" new method uses a magnetised protein to activate brain cells rapidly, reversibly, and non-invasively

Researchers in the United States have developed a new method for controlling the brain circuits associated with complex animal behaviours, using genetic engineering to create a magnetised protein that activates specific groups of nerve cells from a distance.

Understanding how the brain generates behaviour is one of the ultimate goals of neuroscience – and one of its most difficult questions. In recent years, researchers have developed a number of methods that enable them to remotely control specified groups of neurons and to probe the workings of neuronal circuits.

The most powerful of these is a method called optogenetics, which enables researchers to switch populations of related neurons on or off on a millisecond-by-millisecond timescale with pulses of laser light. Another recently developed method, called chemogenetics, uses engineered proteins that are activated by designer drugs and can be targeted to specific cell types.

Although powerful, both of these methods have drawbacks. Optogenetics is invasive, requiring insertion of optical fibres that deliver the light pulses into the brain and, furthermore, the extent to which the light penetrates the dense brain tissue is severely limited. Chemogenetic approaches overcome both of these limitations, but typically induce biochemical reactions that take several seconds to activate nerve cells.

When they introduced this genetic construct into human embryonic kidney cells growing in Petri dishes, the cells synthesized the 'Magneto' protein and inserted it into their membrane. Application of a magnetic field activated the engineered TRPV1 protein, as evidenced by transient increases in calcium ion concentration within the cells, which were detected with a fluorescence microscope.




Next, the researchers inserted the Magneto DNA sequence into the genome of a virus, together with the gene encoding green fluorescent protein, and regulatory DNA sequences that cause the construct to be expressed only in specified types of neurons. They then injected the virus into the brains of mice, targeting the entorhinal cortex, and dissected the animals' brains to identify the cells that emitted green fluorescence. Using microelectrodes, they then showed that applying a magnetic field to the brain slices activated Magneto so that the cells produce nervous impulses.

Entorhinal cortex



The entorhinal cortex is an area of the brain located in the medial temporal lobe and functions as a hub in a widespread network for memory, navigation and the perception of time. The EC is the main interface between the hippocampus and neocortex.Wikipedia
Part of:Temporal lobe
Artery:Posterior cerebral, Choroid
Vein:Inferior striate

To determine whether Magneto can be used to manipulate neuronal activity in live animals, they injected Magneto into zebrafish larvae, targeting neurons in the trunk and tail that normally control an escape response. They then placed the zebrafish larvae into a specially-built magnetised aquarium, and found that exposure to a magnetic field induced coiling manouvres similar to those that occur during the escape response.

"Previous attempts [using magnets to control neuronal activity] needed multiple components for the system to work – injecting magnetic particles, injecting a virus that expresses a heat-sensitive channel, [or] head-fixing the animal so that a coil could induce changes in magnetism," he explains. "The problem with having a multi-component system is that there's so much room for each individual piece to break down."

(Not any more, IMO.)

"This system is a single, elegant virus that can be injected anywhere in the brain, which makes it technically easier and less likely for moving bells and whistles to break down," he adds, "and their behavioral equipment was cleverly designed to contain magnets where appropriate so that the animals could be freely moving around."

'Magnetogenetics' is therefore an important addition to neuroscientists' tool box, which will undoubtedly be developed further, and provide researchers with new ways of studying brain development and function.
Reference

Wheeler, M. A., et al. (2016). Genetically targeted magnetic control of the nervous system. Nat. Neurosci., DOI: 10.1038/nn.4265 [Abstract]


https://www.theguardian.com/science/neurophilosophy/2016/mar/24/magneto-remotely-controls-brain-and-behaviour

It's also worth pointing out that Canadian theology professor Dr. Pierre Gilbert during a lecture in 1995 warned of a coming mandatory vaccine containing liquid crystals that, when exposed to magnetic frequencies, turn vaccine recipients into "zombies."

"In the biological destruction there are the organized tempests on the magnetic fields," Gilbert said. "What will follow is a contamination of the bloodstreams of mankind, creating intentional infections."

"This will be enforced via laws that will make vaccination mandatory," he continued. "And these vaccines will make possible to control people."


https://www.newswars.com/mind-control-scientists-engineer-magneto-protein-capable-of-remotely-controlling-brain-behavior/




(Natural News) The long-term effects of Wuhan coronavirus (Covid-19) vaccination remain mostly unknown, but what we do know is that Alzheimer's and other neurological degenerative diseases are already being identified as among the health consequences.

A new study reports that it has been suspected for a while now, based on preliminary evidence, that Chinese Virus jabs could cause dementia. The public, however, is not being told about this risk when lining up for injection.

The risk of developing prion-based disease, the paper suggests, is potentially higher than many people realize. It could take a while for such disease to manifest, but the injections are getting the ball rolling by priming the brain for a degenerative unraveling.

"The current RNA based SARSCoV-2 vaccines were approved in the U.S. using an emergency order without extensive long term safety testing," it explains. "In this paper the Pfizer COVID-19 vaccine was evaluated for the potential to induce prion-based disease in vaccine recipients."

Messenger RNA (mRNA) injections are especially risky because of how they permanently merge into the human genome. What this means is that a degenerative brain condition could appear at any time down the road if the conditions are ripe for such.

"The RNA sequence of the vaccine as well as the spike protein target interaction were analyzed for the potential to convert intracellular RNA binding proteins TAR DNA binding protein (TDP-43) and Fused in Sarcoma (FUS) into their pathologic prion conformations," the report further explains.

TDP-43 is a protein known to cause dementia, while the FUS protein is known to cause ALS (Lou Gehrig's Disease) and Hereditary Essential Tremors, science has shown.

mRNA technology was created to embed dementia-causing proteins into recipients' DNA

https://www.naturalnews.com/2021-05-19-pfizer-covid-injection-alzheimers-neurodegenerative-disease.html

Experiments conducted for the study found that these two harmful proteins do, in fact, embed themselves within a recipient's DNA post-injection. This appears to be what mRNA "vaccines" were designed to do, as they contain special genetic sequences that induce TDP-43 and FUS to fold into their pathologic prion confirmations.

Keep in mind that mad cow disease is another prion-based disease that studies show could result from getting injected with an mRNA Wuhan coronavirus (Covid-19) vaccine.

"The enclosed finding as well as additional potential risks leads the author to believe that regulatory approval of the RNA based vaccines for SARS-CoV-2 was premature and that the vaccine may cause much more harm than benefit," the study concludes.

"The vaccine could be a bioweapon and even more dangerous than the original infection."

This is a generous assessment in that mRNA injections are now harming and killing more people than the Chinese Virus itself ever could have all on its own. These injections are clearly a deep state bioweapon designed to depopulate the planet, and the evidence of this will manifest itself in time.

When independent media outlets attempted to contact the Centers for Disease Control and Prevention (CDC) to find out why mRNA injections are still being administered, no response was given.

"Why am I taking a vaccine for something that has a 99 percent survival rate?" asked one commenter at National File.

"Why are you taking any vaccine?" asked another. "All diseases are survivable with enough vitamin C and D."

Others pointed out that zinc, magnesium, vitamin K2, and trace amounts of boron are also helpful in staving off illness by naturally boosting immunity. Nobody needs any vaccine if they follow these protocols.

"I take Vitamins C, D (liquid), and E, and a multi-vitamin that contains zinc as well as probiotics daily," another wrote about her protocol. "All of them are taken after a meal. I used to get pneumonia often before I started taking probiotics and Vitamin D."

More related news about mRNA injections can be found at ChemicalViolence.com.

Sources for this article include:

NationalFile.com

NaturalNews.com


---
Posted by WildB (Member # 2917) on :

Do covid vaccines contain GMO "Magneto" protein capable of remotely controlling behavior, brain activity?
American researchers have developed a new method of mind control that sounds oddly similar to what some suspect is contained within Wuhan coronavirus (Covid-19) "vaccines."




Using genetic engineering, "Frankenstein" scientists have reportedly developed a genetically modified (GMO) protein known as "Magneto" that allows behaviors and brain function to be remotely controlled externally.

Magneto was designed to activate a specific group of nerve cells within the body, and this activation can be done from a distance – perhaps from a 5G tower?

The surface-level claim is that the technology is needed to study how the brain impacts behavior. The rabbit hole theory, however, is that the technology allows for mass mind control.

We know from published research that Magneto is delivered into the body via viral injection – sound familiar?

The technology was developed back in 2016 by researchers at the University of Virginia in Charlottesville, and was tested by inserting a virus into the brains of test mammals.

These brains were later dissected and analyzed, upon which it was discovered that they emitted a green fluorescence.

This "glowing" technology sounds oddly similar to the "luciferase" enzyme patented by billionaire eugenicist Bill Gates to go along with the soon-to-come microchip add-ons for the Chinese Virus injections.

In another experiment, researcher inserted Magneto into the striatum of "freely behaving" mice. The striatum contains dopamine-producing neurons that are involved in reward and motivation.

The injected animals were then placed into an apparatus split into two sections: magnetized and unmagnetized. Mice that expressed Magneto spent far more time in the magnetized area than in the non-magnetized area.

https://www.naturalnews.com/2021-05-25-covid-vaccines-gmo-magneto-protein-behavior-brain.html

MORE! Superparamagnetic nanoparticles delivered via vaccines; Operation Warp Speed a TRAP for Democrats, and the engineered collapse of America accelerates!

A study published in the National Library of Medicine in 2014 proves that "superparamagnetic nanoparticles" are successfully delivered into the body via vaccines, and once in the body, they can be used to inject DNA into cells, altering their genetics. The study is entitled Superparamagnetic nanoparticle delivery of DNA vaccine.




(Natural News) If you've seen any of the recent videos of magnets sticking to people's arms after they've been vaccinated, you might be wondering: Are there magnetic nanoparticles in those vaccines?


https://www.naturalnews.com/2021-05-25-superparamagnetic-nanoparticles-delivered-via-vaccines.html

---


Powered by Infopop Corporation
UBB.classicTM 6.5.0